You can pay your bill right here
PAY YOUR BILL ONLINE
---
You can easily and conveniently pay your bill/invoice here
---
Payments made securely through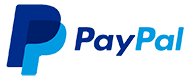 the world's most trusted and used payment service provider in the world.
---
You don't need to have a PayPal account to make your payments.
Securely pay your bill/invoice here using any major credit/debit card.
We will send you a confirmation email once your payment has been made and approved.
Please enter your bill information
You can use any major credit card or debit card.
COMING SOON
Check back again at a later time